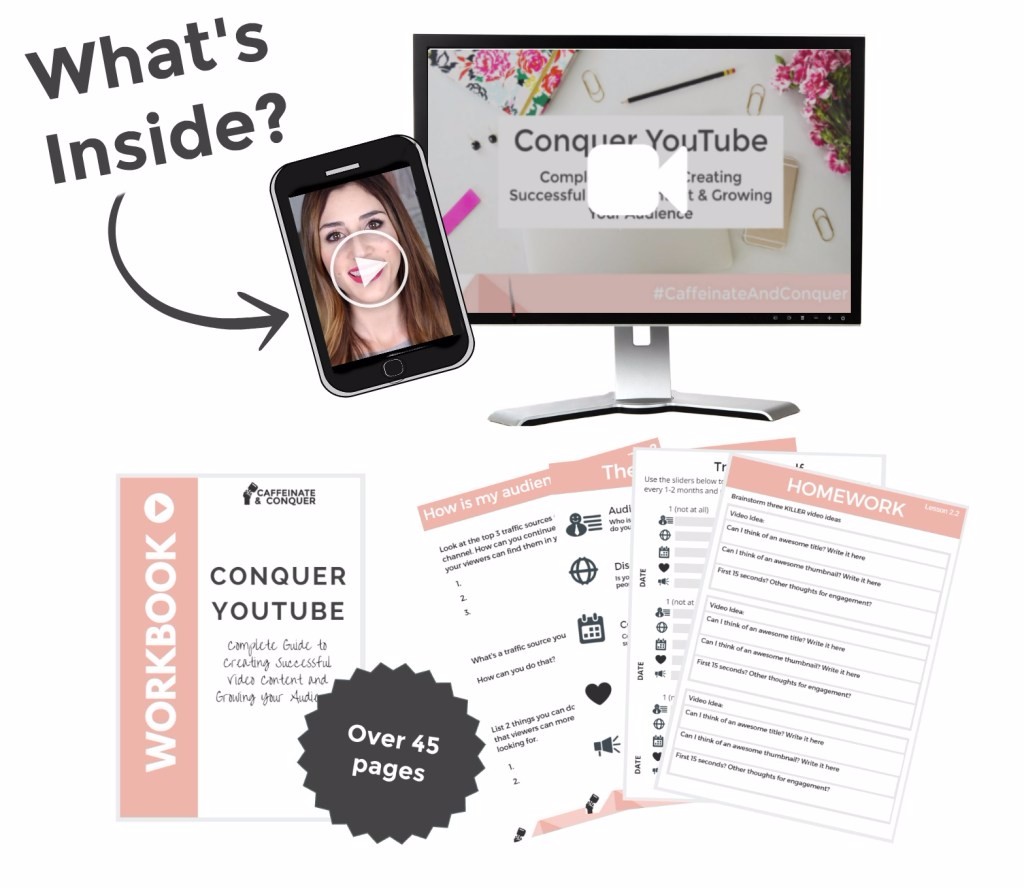 PART ONE: THE FOUR MODULES
This course is broken up into FOUR modules. So, essentially you're getting FOUR courses all inside this one.
Module One - Production
-The best equipment for creating YouTube videos
-Pre-production strategies to get setup for success
-Hands-on demo of how I setup my filming space and lighting best practices
-Video planners and checklists to keep you organized
Module Two - Getting Views
-How to optimize your channel for more views
-How to create engaging videos people LOVE to watch
-How to break the YouTube algorithm and show up in suggested videos
-SEO checklists, collaboration ideas, and tips for your distribution plan
Module Three - Getting Subscribers
-Learn how to get a viewer to convert into a subscriber
-Define your target audience and what they like.
-Develop a stronger understanding of your current audience
Module Four - Channel Strategy
-The five pillars EVERY YouTube channel needs - and how to get them
-Craft your channel mission
-My secret to developing a posting schedule to get new subs and make your current subs happy
PART TWO: THE WORKBOOK
This e-course also comes with a 45-page workbook designed to help you get actionable with what you're learning and think critically about your channel. It also has tons of awesome planners and organizers to streamline your process.
PART THREE: ONE-ON-ONE COACHING
(not available for coupon codes)
Students of Conquer YouTube also get a FREE Channel Audit with instructor Kallie Branciforte.
A YouTube channel audit is a customized check-up on your YouTube channel along with personalized tips on tricks for how to improve. It's conducted in a 45-minute, one-on-one Skype call where I will cover all aspects of your YouTube Channel Audit. It'll include things you're doing well to suggestions for improvement. The audit is meant to be conversational, and you can ask any questions you might have to make it most effective for you. In general, we'll cover channel optimization, video content, thumbnails and SEO, and how it connects to your brand. It's a one-time consultation to help you identify your strengths, pinpoint places for improvement, and discuss pain points. I usually sell this for $300, but you get it for a discount when buying it with Conquer YouTube (not available for use with coupon codes)